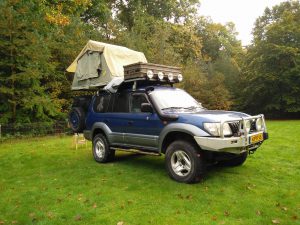 If you want to go on an adventure, experience the out door life and sleep in a roof top tent, Brutus might be your partner in crime. In the back of the car you will find a complete camping equipment. 60 liters of water, two-burner stove, sink, 35-liter refrigerator and a complete set of utensils. On the roof is a two person roof tent fitted with 8 centimeter thick mattress for a comfortable night's sleep. You can also bring two bicycles on the bicycles carrier. You only have to bring your own pillow and sleeping bag or duvet to go on an adventure with this car. You can hire Brutus on SnappCar.
Brutus is also available to tow a heavy load, make an appearance on your outdoor event or maybe something else.
Send me a message if you're interested in hiring Brutus.