So today I hiked the Preikestolen trail. It was said to be a challenging trail by the Stavanger tourist information, however except for some poor weather it was not to difficult in my opinion.
Preikestolen is a steep cliff which rises about 600 metres above the Lysefjorden. Atop the cliff, there is a flat top of 25 by 25 metres.
First I had to get to the start of the Preikestolen trail. Parking at the trail start would cost about € 20, an amount I did not want to spend. There was no busstop at the camping, and also no service provided by the camping. Also I was not allowed to leave the car on the camping parkinglot so was forced to stay an other night as the check-out time is already at 11:00.
Considering the options I decided to take the bicycle and cycle to the start of the trail. There were some tough climbs on the way, my lowest gear was barely enough, but I got at the trail start eventually. The weather was cloudy but still dry.
As said, the hike itself was not to difficult, about 6 KM one way. It took me about one and half hours to hike to the cliff, including some breaks to enjoy the view along the way. In the end the bicycle ride to the start of the trail was tougher. With the end of the trail in sight it started to drizzle so I quickly made some pictures and unfortunately did not take much time to enjoy the achievement.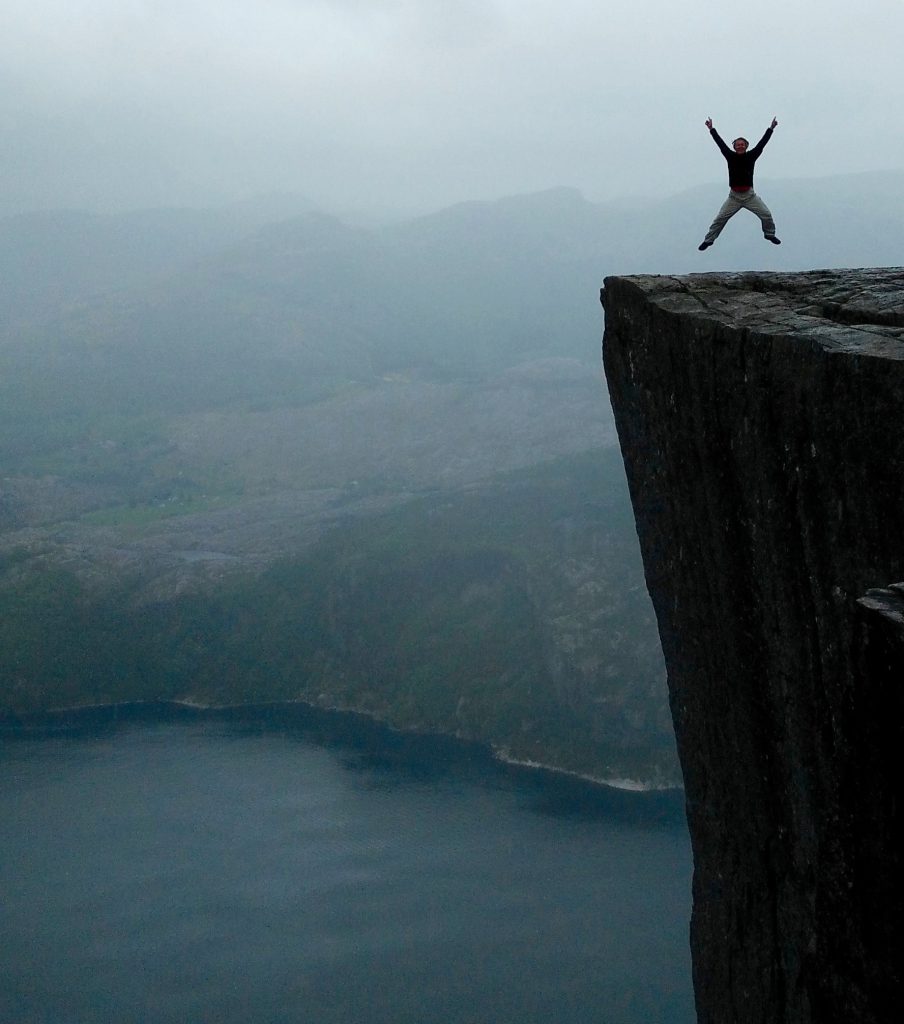 During the hike down the drizzle was replaced by steady rain, and I was not properly dressed for this weather, so I made it a quick decent.
Of course I also had to get back to the camping. The rain was at times streaming, so I was glad that I had to go down hill with the bicycle. The speed was sometimes quite high and the break pads could be smelled. When I arrived at the camping a quick warm shower got me back to temperature.