Considering the tunnel digging skills of the Norwegians one might not be surprised that the longest tunnel of the world, almost 25 KM, is in Norway. And yesterday I could have driven trough, however I didn't. Instead I drove over the Lærdal tunnel, trough cold white landscape and even camped in the snow.
On the way up the mountain I met a relative of Brutus, an equal metallic blue Land Cruiser 95 "Prado" also dressed up for adventure. The further up the mountain I came the thicker the pack of snow was getting and I was driving trough walls of snow eventually.
My camp fore the night was at Flotvatnet, a still frozen lake and waterfall. Yes, it was cold, but the scenery was definitely worth it.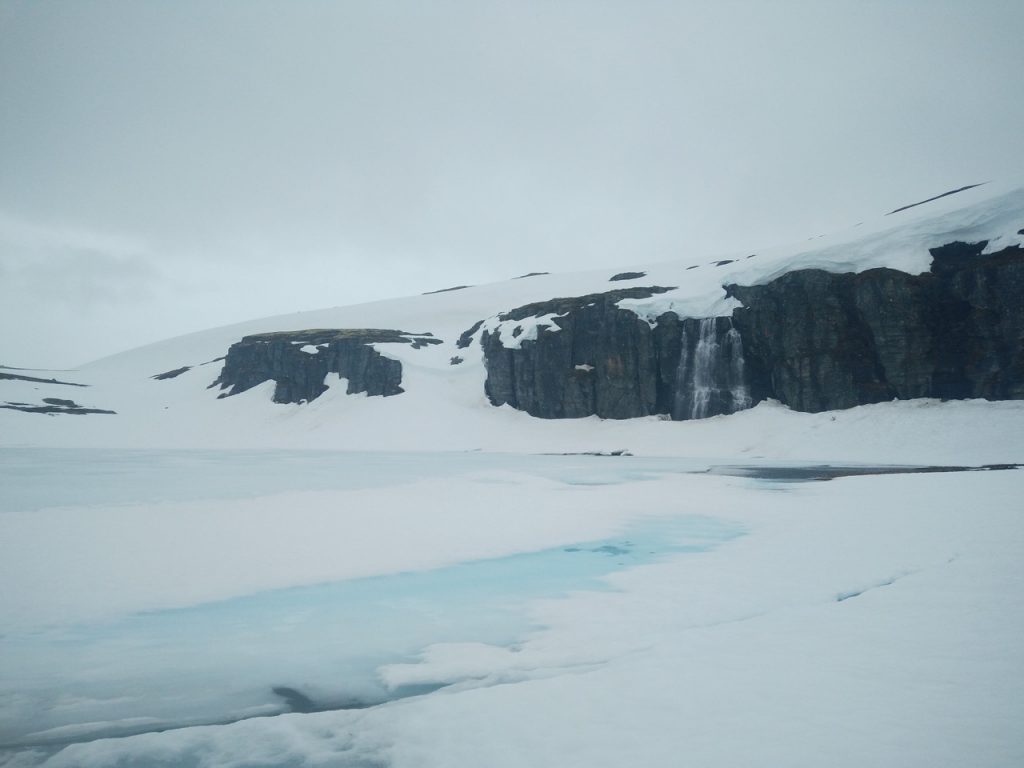 Just a bit after my camping spot an art installation was constructed by the name of Vedahaugane. Inside a bear's den a bear was having a winter sleep on a pile of rubbish from ancient to modern times. The message was clear.
In the afternoon I visited the UNESCO World Heritage site Urnes Stave Church. The wooden church of Urnes, the stavkirke, was built in the 12th and 13th centuries and is an example of traditional Scandinavian wooden architecture from that era where traces of Celtic art and Viking traditions are brought together.
At the end of the evening I arrived at one of the foothills of the Jostedalsbreen glacier. Here the glacier ended and every now and then pieces of it broke off and felt down in the valley, an impressive sight. Eventually this ice melted and went up in a stream. A peaceful and quiet setting where I decided to make camp for tonight.