Brutus is finally back after more than three months of repair by the Land Cruiser specialist in Maasdijk, also costing much more than estimated. Still one or two repairs need to be done though. The repair definitely took to long and I can't understand how someone can run a business lake that. But enough about that, let's look forward to new adventures.
So which repairs have been done? First and foremost the front left wheel, which broke off back in October, has been repaired. Also, during my North Cape trip I experienced a pull to the right wile accelerating, and to the left while braking. This turned out to be some leaking seals on the rear axle. This, together with a new handbrake lining, has also been fixed. I still think the car pulls a bit, but definitely a lot less than before.
There is still an oil leak near the oil pan which needs to be fixed, and the airconditionings condensor needs to be replaced.
The steel rims I bought last August were fitted with new tyres. I went for the BFGoodrich T/A KO2 265/75R16. During my Africa trip I had the preceding KO model by the same brand and didn't have any puncture or flat tyre for over 32.000 KM of African roads. The front right BFGoodrich T/A KO 235/85R16 is moved to the spare wheel carrier. This tyre is a bit smaller and thus lighter, but the diameter is the same as the 235/85R16. This makes it a nice spare wheel, lowering the stress on the rear door. I decided to take only one spare wheel and a tyre repair kit with me for my Amsterdam to Sydney trip as I have enough trust in these tyres to perform well.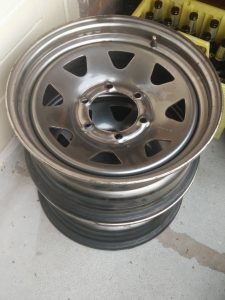 I installed a Tyre Pressure Monitor System, but it doesn't yet work the way I like. I will write a review on a later date, when I have some more experience with it.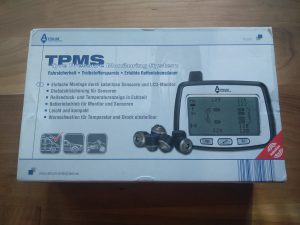 For the car entertainment system I'm building a Raspberry Pi based system together with a 7″ touch screen which fits nicely in the 2 DIN dashboard compartment. The system will also double as reverse camera and WiFi/GPRS hotspot.
A foldable mattress has been added in the rear of the car, allowing one person to sleep. This is especially convenient if one can't use the roof top tent, like when sleeping in a rural environment. Before I used an air mattress, which became leaky. I expect this to be more comfortable, and I can also use it as a seating element.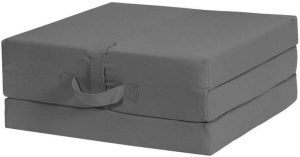 The last three weeks I've been daily posting a picture on Instagram from my previous trips trough the 50+ countries I've visited so far. There's already a nice collection building up. Have a look and subscribe to my Instagram feed, also for future pictures of my Amsterdam to Sydney trip
I have also subscribed this site for the Best Overland Blog 2018 competition. If you like this site and content please give it a vote. Thanks!